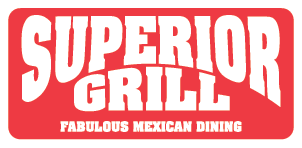 Add some real spice to your life!
Superior Grill has been rated consistently as one of Louisiana's best Mexican restaurants since 1983 when our first establishment opened in Shreveport.
We're famous for our sizzling fajitas and Superior margaritas. Our margaritas are made with freshly squeezed lime juice, and our food is made fresh, from scratch everyday. For added flavor, all of our meats are prepared over a mesquite grill. We are proud of what we make and how we prepare it.
Superior Grill is "the place to be" for happy hour, birthdays, office parties, and large groups. In addition to our festive indoor dining room, we offer a memorable outdoor dining experience on our landscaped patio. We also host several events throughout the year.
If you can't get enough of our delicious food, we offer Fajita Trays and other party trays that are perfect for office luncheons, parties at home, or tailgating.